Finding the right mattress for yourself is extremely important as a right bed mattress size helps in providing proper sleep and posture. Sleeping on a mattress that is uncomfortable might result in backache or body ache. All these conditions ultimately are bad for your health and work. As a matter of fact the requirement of different mattress dimensions depends and varies differently from person to person. The requirement of bed mattress for adults is different and for youngsters and kids is entirely different.
Picking the right mattress size & dimension in inches
There are variety of bed and bedding's available in the market. The measurements of all the types of mattresses differ from each other. In India, there is no particular size/dimensions defined for king/queen mattresses. However, the standard measurements for king size bed ranges between 76 inches to 80 inches as compared to that of queen size bed which is generally 60 inches to 80 inches. Once you have decided to buy a mattress you must fulfill some guidelines lest you pick the wrong mattress for you. The below-mentioned bed mattress size chart and dimension will help you to decide which standard mattress size will be best for you.
King size mattress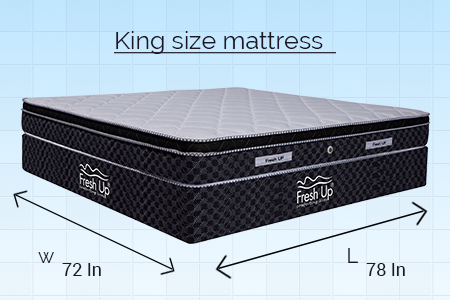 It is the best option for them who like to spread out as the standard measurements of king size bed lies between 78 inches length and 72 inches width. King size bed is the perfect option for those people who let their pets sleep with them or let their kids sleep. It provides proper space and comfortable area. One drawback of this bed is that it requires a big room to fit in. People who opt for king size mattresses can however order twin XL mattress as they fit perfectly in the king size bed.
Queen size mattress
These mattresses are popularly sold as plenty of people choose to prefer the queen size mattresses. The average size for a queen size mattress is available from 78 inches length and 60 inches width.
Full Size or Double Bed Mattress Size
The mattress is generally sized between 54 inches breadth and 75 inches long. This is generally one and a half times larger than a single bed.
Single Bed Mattress Size
Single bed mattresses are comparatively small and are sized between 75 inches long and 36 inches wide. People prefer buying single bed mattresses if they live along or if they are buying it for their kids.
The type of mattress can be easily determined by your requirement. Always keep certain factors in mind while purchasing the mattress like:
There are different mattresses available which vary in their thickness, quality, and different sizes.
People with medical conditions should prefer buying mattresses which are a little firm and should keep their spinal cord in a straight posture. The thickness of an average mattress ranges from 4 inches to 10 inches any mattress. To enhance the life of your mattress always cover it with a waterproof cover so that it may not get dust inside it. Keep the mattress on a flat surface as it helps in maintaining the mattresses shape. Make sure you don't purchase a used bed mattress it should always be brand new and unused. These bed mattresses particularly suit every type of sleepers.
Refer the above mattress size chart (in inches) for collated information about different bed mattress sizes in India.
Hard Ortho Mattress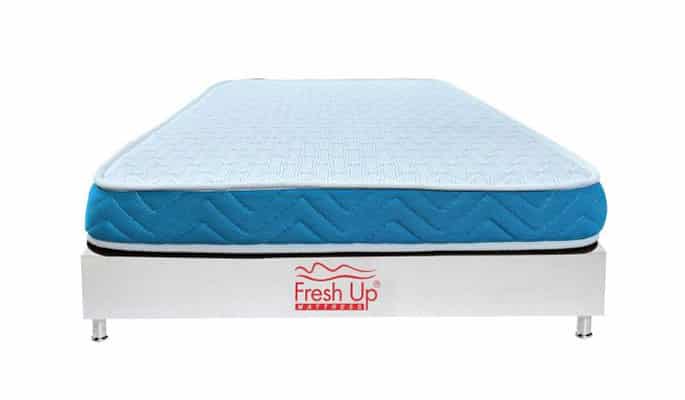 Ortho Memory Foam Mattress
Orthopedic Spring Mattress
Fresh Up Manufactures Customized Mattresses
Apart from offering standard mattress sizes for masses as detailed above, Fresh Up also manufactures customized mattress for the people having not-so-common beds. The best thing about Fresh Up is its customer support which helps the customers starting from taking the size of your custom bed to after delivery of your customized mattress. Fresh Up provides customized sizes Orthopedic Spring Mattress, Memory Foam Mattress and many other different types of mattresses. Moreover, the customized mattresses are manufactured and delivered to the customers at an unbelievable pace.
For any inquiry or Hotel call us at +91 9811316651.