Foldable mattress – the best portable alternative to regular mattresses. This intelligently engineered designer bed is quickly taking over the sleeping world. Are you wondering about what is a foldable mattress and why you should have one? Read on to find out what exactly a foldable mattress is and how it will help you out in times of need!
What Is a Foldable Mattress?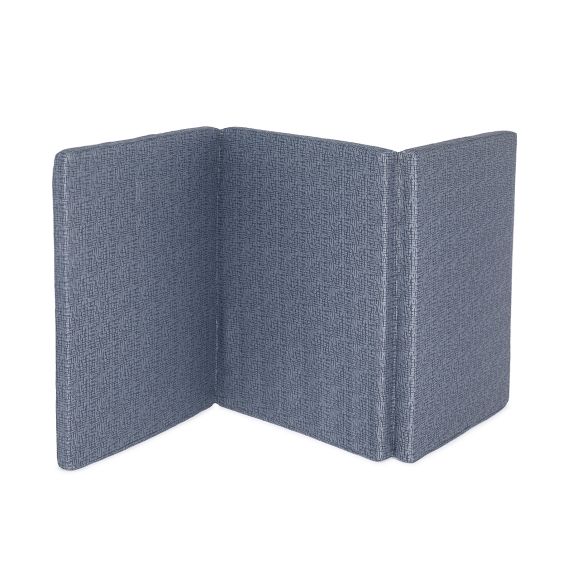 As the name suggests, the meaning of foldable mattress bed, also called folding mattress, is – a mattress bed that can fold up.
When completely unfolded, a foldable mattress acts exactly like your traditional mattress bed. But, unlike your regular mattress, this cleverly built, lightweight designer bed allows you fold it and stow away till the time you need it.
When unfolded, it looks and feels just like your regular mattress bed. It offers the same support, with many different types of mattress material options to choose from. The difference between your regular mattress and a foldable mattress lies in one very important factor – unlike your traditional mattress bed, you can easily lift your foldable mattress and fold it!
From a full, king size bed, you can convert it into 1/3rd of its original size. In 1 simple step, go from having a big, full-sized mattress bed to a small mattress that can fit into your wardrobe or car. No more tension of transportation!
Why Buy a Foldable Mattress Online?
Here are a few of the benefits of having your very own folding mattress:
Portable Foldable Mattresses: You're renting a place for a short time. And you need comfortable mattress bed options. But moving around a massive, traditional mattress bed option is not the best option for you. You need something that is light in weight and a child's play to carry around.
We've got the perfect solution for you – a folding mattress. Move your mattress bed around, hassle-free. With lots of different size mattress bed options, you can get foldable single bed mattress, folding double bed mattress, twin foldable mattress, and so on.
With a foldable mattress, you can now fold up your bed and either stack it in your wardrobe for ultra-easy storage, or carry it with you on trips, camping nights, etc.
Comfortable Foldable Mattresses: If you're worried that a bed which can be folded up and stowed away doesn't sound too comfortable, we're here to surprise you. Good brands offer a folding bed that is so cosy and comfy, you will not miss your bed back home when you're out camping, hiking, etc.
Foldable beds come with a generous foam filling, providing luxurious support to the user. This gives foldable mattresses the same level of superior support and comfort as that of a regular mattress bed.
An added benefit of the foldable mattresses is that they can be used on both sides, which gives you flexibility of usage.
Kid-friendly Foldable Mattresses: Gift your kids something they'll use and love for years to come – their new favourite mattress bed. This simple to use and easy to carry mattress type is the perfect bed for your children. They can take their mattress on sleepovers at a friend's house, on camping trips, or even just carry to another room for reading or catching up on playtime.
Budget-friendly Foldable Mattresses: The folding mattress bed is more pocket-friendly than the traditional mattress bed. And this offers you the chance to get one for any kind of temporary accommodation or spare bedrooms. You can also keep one around to make any unexpected guests feel comfortable and at home – in any room of your house.
Make any room a bedroom with your uniquely comfortable, yet affordable, designer bed!
Foldable Mattress Specifications
Where to buy foldable mattresses online in India?
Fresh Up Mattress – One of India's leading brands, offers a superior selection of carefully designed and expertly engineered sleep solutions. One of these is the foldable mattress. Other products include premium mattress beds, mattress protectors, wide range of pillows, blankets, etc.
In varying size options, Fresh Up Mattress' foldable mattress is a well-loved product.
Size Options:
72″x30″

72″x35″

72″x36″

Mattress Feel:
Medium firm on both sides
Cover Material:
Polycotton fabric
Mattress Material:
Foam and EPE
Lightweight:
Lightweight and easy to carry
Uses:
Picnic, Travel, Hostel mattress, Meditation, Guest room, play mat and as an extra bed folding mattress for sleeping on the floor
Shipping:
Direct from Factory to your Home
How to Care for Your Foldable Mattress
To keep your foldable mattress in good condition, you can use a damp cloth and vacuuming. Ironing the mattress reduces its lifespan, while detergents damage the filler material.
The easiest way to keep your foldable mattress clean is to slip on a mattress protector over it and slip it right off when the mattress is not in use. This will help you keep your folding mattress in the best condition for longer periods of time.
Fresh Up Mattress' expertly engineered foldable designer beds are perfect for every type of sleeper. You can simply pick out the foldable mattress size that fits you best and prepare yourself to have the most amazing sleep you've ever had!